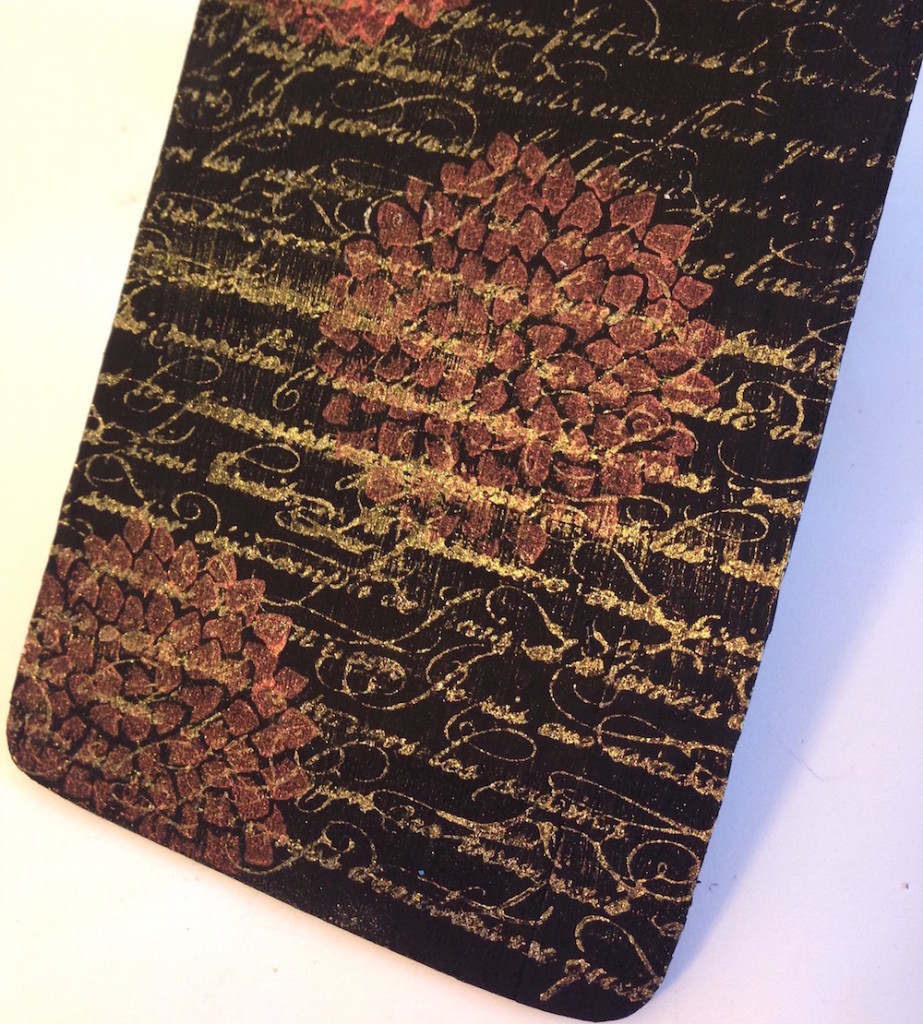 I love decorating all the doors in my home. A plain unfinished wood doorhanger doesn't have to profess your desire for no disturbance – it can be a creative personalized statement for any  bedroom, bathroom or even a closet. Doorhangers can be miniature works of art or they can simply announce whose room you are about to enter. As always, everything I used for this project came from my stash…no craft store coupons were injured in the making. #CraftYourStash-ers unite!
Supplies
Unfinished wood doorhanger
Black gesso (I like gesso for its flat finish)
Earthsafe Finishes Iridescent Paints by Ann Butler Designs – Sheer Gold, Sheer Russet
Rubber stamps – one large all-over pattern, one focal image
Paint brush, cosmetic wedge sponge, sanding block
Self-adhesive rhinestones
Self-adhesive vinyl rhinestone sheet
Embroidered letter, craft glue
Gently sand away any rough edges of the doorhanger, then paint both sides and the edges with a coat of black gesso and let dry.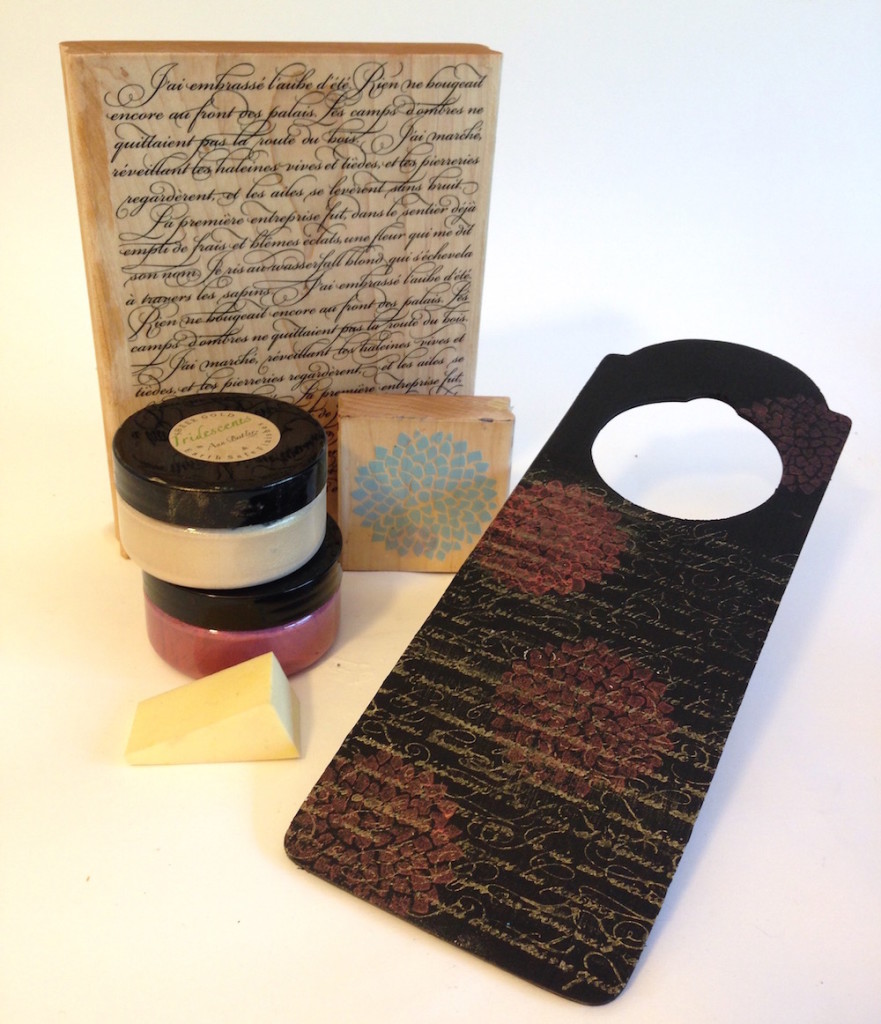 Use the sponge to dab a light coverage of gold iridescent paint on the large all-over pattern stamp, and press firmly on to the front of the doorhanger; let dry.  Since paint stamping can be a bit tricky to get just the perfect amount of paint applied to the stamp (too much paint or a heavy touch loading it with the sponge will clog the image), I sometimes intentionally smudge random areas with my fingertip to distress the image a bit before the paint dries.
Stamp the focal image a few times with russet iridescent paint on top of the pattern; let dry. These paints are so lovely and sheer – it looks like the gold was stamped on top of the russet, but it wasn't. Accent with small rhinestones.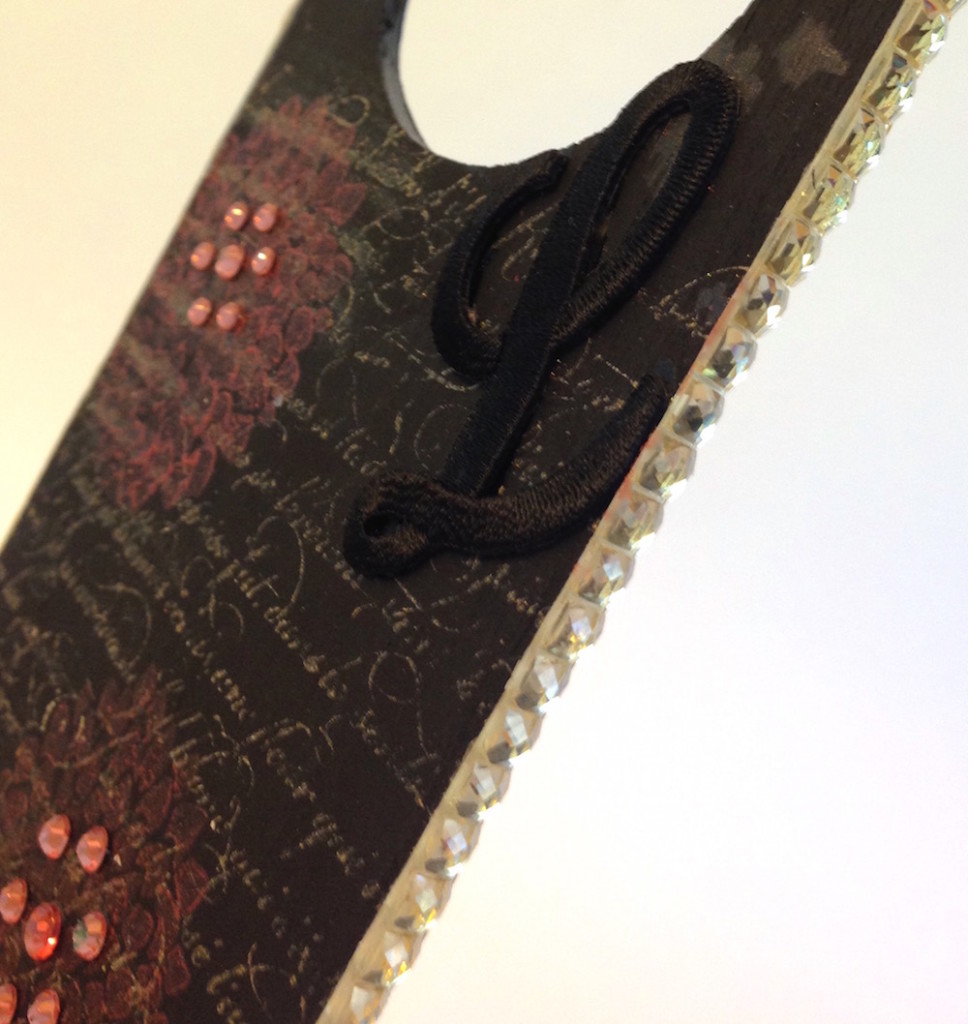 Trim a row from the vinyl rhinestone sheet to adhere along the edges of the doorhanger. Glue your embroidered initial in place – and it's ready to hang on the door.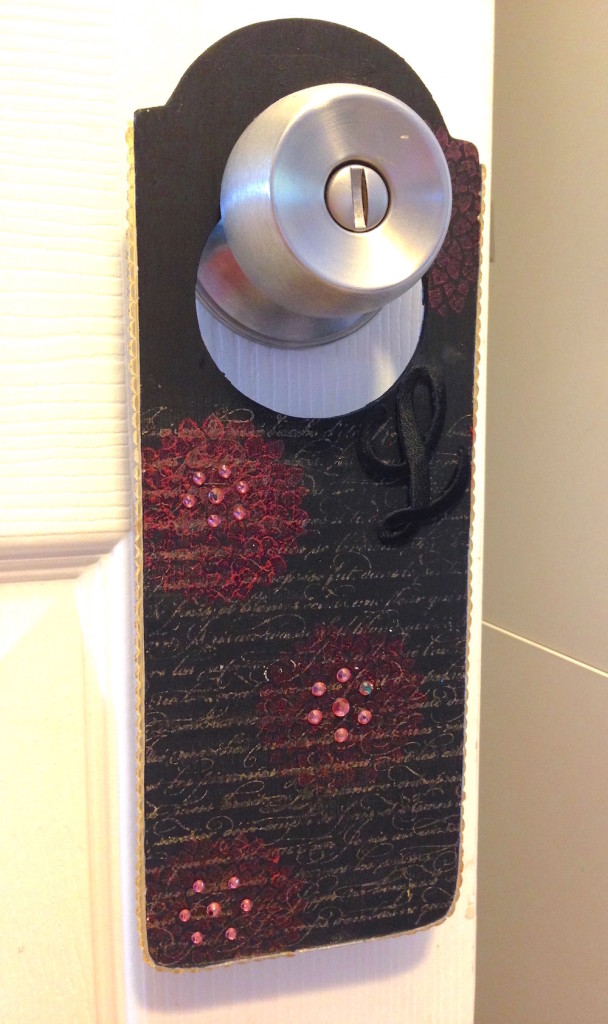 As a mixed media artist and a designer for the craft industry, Lisa loves (and hoards) paint, glitter, glue, paper, fabric, fibers, buttons, charms...you name it. She has written two books, "Craft Your Stash" and "Stylish Craft Foam Projects," and she's a regular contributor to several popular craft sites. Lisa is also a marketing consultant - she enjoys supporting people in their quest to build a more successful business. Be sure to look for her "Creative Solopreneurs" column in each issue of Bella Crafts Quarterly!

Latest posts by Lisa Fulmer (see all)