Have you wondered How to Make a Weighted Blanket?  Here are lots of step out photos and easy instructions…you will just have to adjust for the size you want to make.
You can make a Weighted Blanket from a variety of fabrics…I prefer the soft and cuddly fabrics from Shannon Fabrics as the softness adds to the calming effect that weighted blankets are suppose to bring to those using them.
Step 1: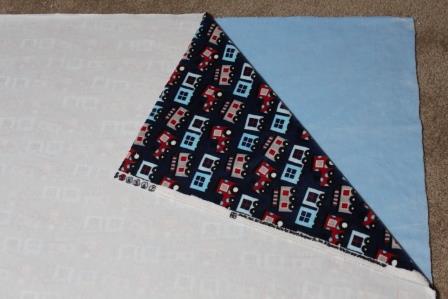 Place fabric right sides together.
Step 3:
Stitch around 3 sides with a 1/2″ seam.  Trim the corners and turn to the right side.
Step 3:
Top stitch 1/2″ around on the 3 sewn edges.
Step 4:
Mark horizontal and vertical guidelines onto one side of the fabric.  (Please note: this can be done before sewing the 2 pieces of fabric together if you prefer).  The distance will depend upon the size of your blanket.  My blanket is 45″ wide x 42″ long.  So my vertical lines are 5″ apart,  this will give me 9 channels.  My horizontal lines are 6″ apart.
Step 5:
Sew the vertical lines, this will give you the channels in which to place your poly-pellets.
Step 6:
It is recommended that the weight of the blanket be approximately 10% of the recipients body weight and not to exceed 15%.  I am making this weighted blanket for someone who is 40 pounds, so I will be using 4 pounds of Poly-Pellets®.
Since I have 9 channels, and will have 7 row (9 x 7), I will have 63 squares in the blanket.  There are 16 ounces to a pound, so 16 ounces x 4 pounds = 64  ounces, therefor I will use approximately 1 ounce of Poly-Pellets® in each pocket.
Step 7:
Place tube into 1 channel, pour 1 ounce of Poly-Pellets® into the tube, this will help the Poly-Pellets® go directly to the bottom and not stick onto the fabric, as it would be easy to break a needle if they stick to the fabric and you do not notice.  Repeat into the next 8 channels and then sew your first horizontal line closest to be bottom edge where the Poly-Pellets® are.
Step 8:
Repeat step 7 six more times.  On the final row, pin the edge and stitch in place with a 1/2″ seam.  Trim any thread if needed.
It takes a few hours to complete a Weighted Blanket, more if it is larger than the one I created.  The recipient will appreciate the it so much!
Supplies:
Bella Crafts Publishing is the home of Bella Crafts™, Craft Techniques™ and other digital e-book titles.We love to inspire other crafters to create and grow.
Latest posts by Bella Crafts (see all)