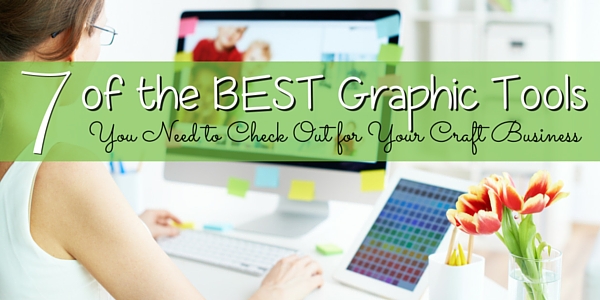 If you run a craft business…or just craft a lot…chances are you take A LOT of pictures.  Even if you are an amazing photographer, chances are that you will still need graphic tools to edit your photos.  Resizing, cropping, adding a text overlay and watermarking are some of the things you may wish to do before adding the to your website or blog and sharing them on social media.
Having professional photo editing software is expensive and has a huge learning curve.  Back in the day, it was our only option, but now it's easier than ever to edit photos and create graphics without the huge expense of money and time.  We are sharing 7 of our favorite graphics tools for desktop and mobile that you will want to check out.  Some are completely free, some have a free and premium editions and other have a small price tag.
We are confident that one, if not all, of these tools will be a huge help to you in editing and creating visual content.
Best Graphic Tools for Desktop
1. Canva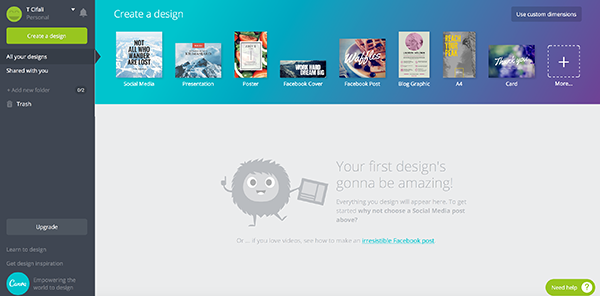 Canva is our top desktop tool for making many of the graphics for Social Media and Bella BLOG.  It is available for desktop and there is an iPad app as well.  It is currently not available for Android devices.  While unfortunate, you'll definitely want to use this on your desktop.  Canva is free to use and has cool features like pre-made templates for social media, ability to upload your own photos and pre-made drag-and-drop templates.  You can create folders for your uploads to keep them organized and it's super easy to add a logo.
It's not really intended for photo editing, but you can crop and image and there are cool filters built in.
If you upgrade to Canva for Work, which is very reasonably priced, there are incredible additional features, such as the ability to upload your own fonts, preset your brand colors (for easy, one-click access) and resize an already made graphic.  Our personal favorite benefit is Magic Resize.  Create one graphic and then with a click of a button, it will magically resize your image into the sizes for the social networks you choose.  You simply create one graphic, click Magic Resize, select pre-listed formats like Twitter and Pinterest and then click Abracadabra…and it will create a copy of the original and reformat it for the templates you chose.  You may have to do a little tweaking, but it saves tons of time as you do not have to create each one from scratch.
2. Adobe Spark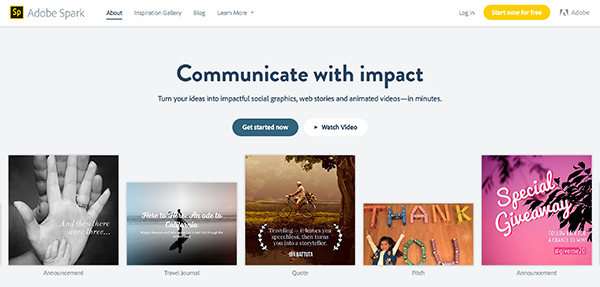 BRAND NEW from Adobe is there new graphic tool Adobe Spark.  This tool is available for both desktop and iOS devices only.  If you use any Adoe tools, you know that they can be really expensive.  Adobe Spark, however, has an incredible price point…FREE!  Who doesn't love free?!  Plus, it's really easy to use.
Not only can you make incredible still graphics, but you can also make video.  If you can type text and click, you can use this tool.
3. PicMonkey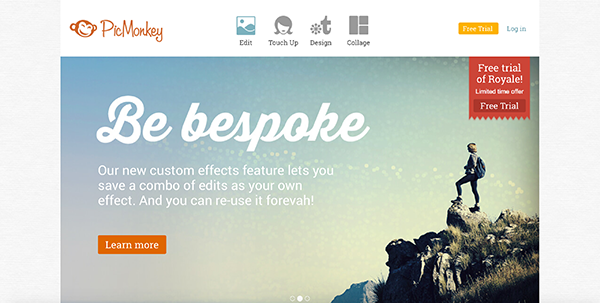 An oldie, but goodie…PicMonkey is great for making graphics, photo editing, creating collages with or without text overlay and more.  It's free to use, but you can upgrade to their Royale account for more features.
If you just want to edit a photo by brightening it up and adding a logo.  This graphic program is for you.
Best Graphic Tools for Mobile
4. Adobe Post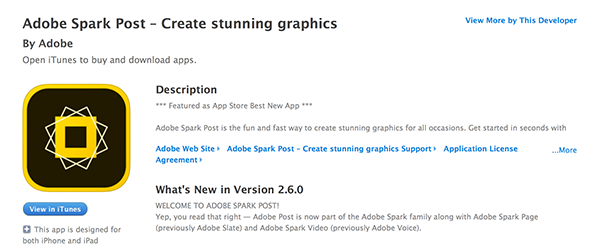 With the Adobe Spark desktop tool, you have the ability to create web pages, video and graphics, which they have broken down and create 3 separate apps.  Adobe Pages, Adobe Video and Adobe Post.  Adobe Post is our favorite of those 3 apps.  Not only can you create visually appealing graphics simply by typing text and selecting pre-made looks, but you can also ANIMATE those graphics.  The animation feature for graphics is not available for desktop, so you'll want this app for sure.
You can then share your image or animated graphic to your favorite social networks or download it to your Photos or even Dropbox!
Just like the desktop version, the apps are completely free.  However, they are only available for iOS devices.  Sorry to our Android friends.
Another cool feature…anything you create on the app will automatically appear in the desktop version and visa-versa.
5. WordSwag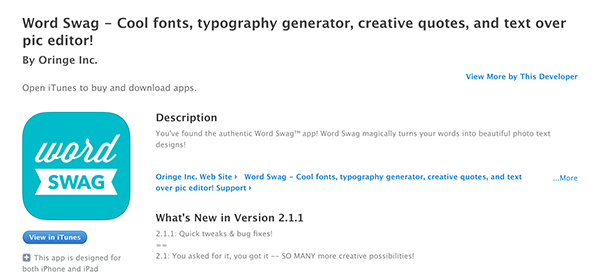 If you like to make still graphics "on-the-go" check out WordSwag.  It's available for both iOS and Android (yay!) devices.  Again, if you can type text, you can use this tool.  Simply upload or select one of their backgrounds, type in your text and then choose from tons of pre-made layouts and color palettes.  You can then share the image directly to your social networks or download them for later.
One of our favorite tricks to to upload quotes onto a transparent background and then save the image, bring it into canva and add our own backgrounds, plus our logo.
The app has a one time price-tag of $3.99.  It's well worth it.
6. Rhonna Designs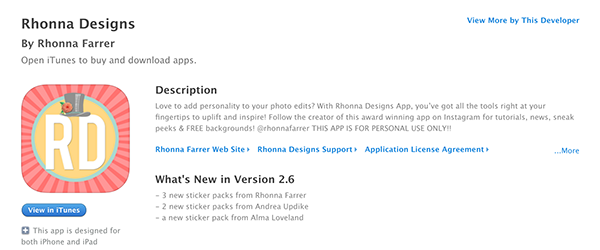 This app has been around for a long time. It is well maintained and has a particular sophistication to it.  You have a lot more control over the design aspect, so those who feel that already made templates are limiting, you'll like this app a lot.
It is available for both iOS and Android devices.  With this app, you have the choice to share directly to your social networks or download the design.
The app is very inexpensive at $1.99, but Rhonna is a smart business woman and consistently adds collections that you can purchase for 99cents.  We usually wait to buy add-ons until she has a special or we have an iTunes gift card!  lol
7. Ripl

Ripl is different from the other applications above because it is specifically designed for creating animated graphics.  It's only available for iOS devices and is free to use.  Simply upload your own background or choose one of theirs.  Add text…for which there are two fields, should you want to  have even more movement in your graphic.  The animations are cool and it is EASY to use!
The catch with Ripl is that you cannot download the animated graphics you create, but only share them to your social networks. Plus, with the free version, you will not be able to remove the Ripl logo.  However, you can upgrade, but it is a subscription model at $9.99 per month.
We know, we know…it's steep.  You may also be wondering why we are even mentioning it after all of the cool free stuff we told you about…but here is the catch.
With the paid upgrade, you can remove the Ripl branding and add own logo, you have access to MORE MORE MORE animation choices and you can download them to have for all time.
BUT…
…with the introduction of Adobe Post, Ripl mayyyyy have to rethink their pricing model.  We are curious to see what happens in the future and will be watching this app.
In the meantime, try out the free version.  It's totally worth it and we think you'll be pleased.
If you've been thinking that you can't edit your photos or make beautiful graphics, we are here to tell you that YOU CAN!  The graphic tools available today for the average user are nothing short of amazing.  Give them a try and let us know what you think.  We'd love to hear which tools you already use, which ones you are going to try and which you love.  Of course, if you know of any you'd like to share with us…please do!
Bella Crafts Publishing is the home of Bella Crafts™, Craft Techniques™ and other digital e-book titles.We love to inspire other crafters to create and grow.
Latest posts by Bella Crafts (see all)