VELCRO® Brand is the industry leader in hook and loop technology.  These books highlight the different hook and loop products offered by Velcro.  You will certainly be inspired.  Whether you are working with fabric, paper, wood or some other material, chances are, there is a Velcro product that will work perfectly.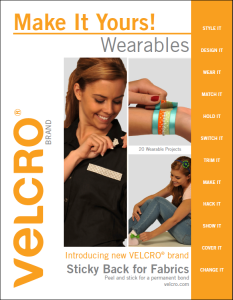 Make It Yours! Wearables
Introducing new VELCRO® Brand Sticky Back for Fabrics. Now there's a new VELCRO® Brand fastener with peel and stick convenience and a durable adhesive bond to fabric. Make embellishments, closures or quick repairs in moments.
This free ebook contains quick and easy, wearable projects that are fun to make.  Click below to get your copy.