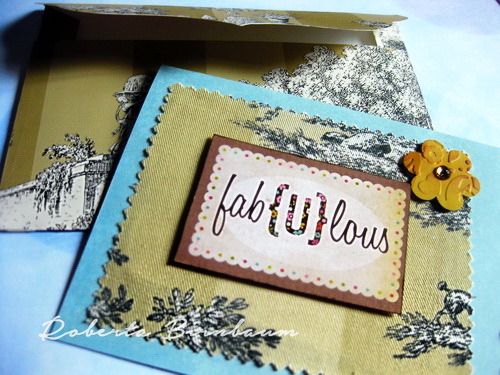 What do I love more than anything when I am gathering materials for a project? That they are FREE! What I also love is recycling materials and upcycling found items, like wallpaper books! 
Go to your local Paint Store and ask them for discontinued wallpaper and fabric sample books.  The stores will gladly give them to you because they don't have the room to store them as new product and books arrive.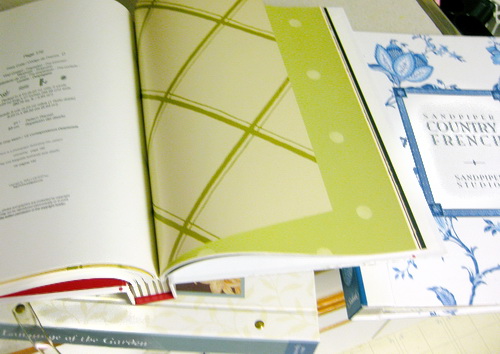 Find a paper and matching fabric. Use the fabric on the front of your card and create the envelope with the wallpaper.  How super cool is that?
Do not pull the fabric off it's backing; instead, cut around the fabric and leave it stuck to the backing.  This gives your fabric a solid base and allows you to easily glue it to your card stock.
Use some of the wallpaper to embellish your card. It's a lovely way to tie in all your elements.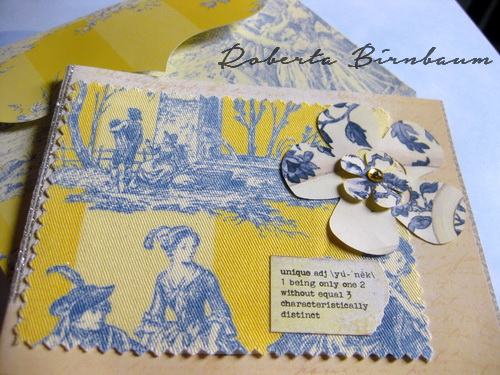 [Tweet "#Recycle wallpaper and #fabric books from paint store into #cards and envelopes.#craft "]
Create your envelope with an envelope maker like We R™ memory keepers Envelope Punch Board or Martha Stewart Crafts™ Scoring Board.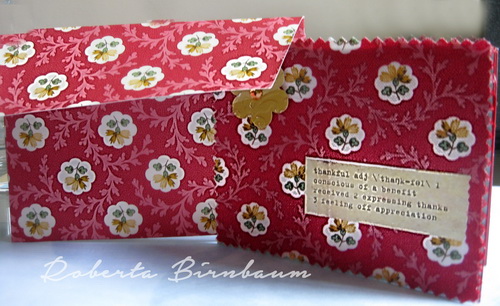 Use Ultra-Thin Glue Dots®  to seal the envelope. I like to use these because each dot is on perforated square and it allows you to stick the glue dot to the flap and then when you are ready to seal it, remove the second backing and you are good to go.  This is especially important if you are selling your cards; otherwise how would the envelope get sealed?  Most card givers don't have a spare bottle of ZipDry™  hanging around.

I bet you already have your coat on, your keys in hand, and ready to run over to the paint store, hunh? Have fun!

Roberta Birnbaum is Bella Crafts' Design Team Leader. She is our only Canadian team member and lives beside one of the world's most beautiful natural wonders – Niagara Falls. Roberta works in many disciplines including mixed media and Powertex™ and creates projects for Ann Butler Designs, Earth Safe Finishes, and ETI Resin. She has been an art instructor, and taught for several years at Michaels.

Latest posts by Roberta Birnbaum (see all)