I always make small gifts for those friends, neighbors and family that drop by during the holidays. I keep the gifts in a decorated basket by the front door so that I will be sure to give them one of the special gifts. The Cotton Press Victorian Saint Nickolas mold has been one of my favorites for years and gets used many times during the Christmas holidays.  This holiday gift basket would surely be a crowd pleaser in your own home.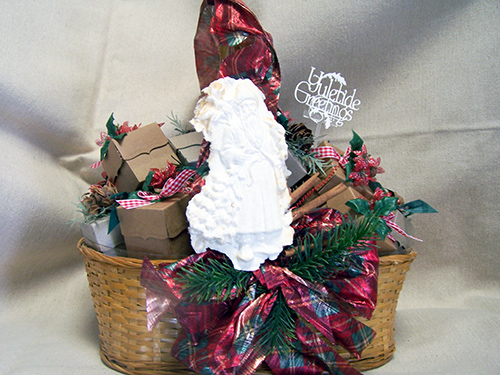 Materials:
Any of the Arnold Grummer™ paper making kits
A sunny window
Blender, strainer, cello sponges and soft towels
Scraps of white (think junk mail, etc.)
Cotton Press Victorian Saint Nickolas casting mold
Beacon QuickGrip™ Adhesive
Scrap of heavy weight white cardstock
Dies: Tonic® #640E Yuletide Greetings
Spellbinders' Grand Calibur die cutting machine
Several yards of #40 Christmas ribbon
Cinnamon sticks
Coiling Gizmo™, 24 Ga. Red Artistic Wire™
Sprigs of faux evergreen
Clear plastic sentiment holder
Basket shred or filler (I used tiny pinecones)
Scissors
Instructions:
Follow the instructions found in any of the Arnold Grummer™ paper making kits to create one or more of the Saint Nickolas paper casting. (I made two, one for each side of the basket.) Allow the castings to dry.
1. Die cut the Yuletide Greetings from a scrap of white card stock.
2. Attach the sentiment to the clear plastic holder.
3. Create four or more coils using the Coiling Gizmo™ and the red Artistic Wire™.
4. Tie two double loop bows.
5. Use the Beacon QuickGrip™ adhesive to attach the ribbon to the handle and bows to the sides of the basket.
6. Insert and attach the cinnamon sticks and wire coils.
7. Attach the two St. Nickolas above the bows.
8. Fill the basket with shred or filler (I used tiny pinecones).
9. Place the small decorated gift boxes into the basket.
10. Insert the sentiment holder between the gift boxes.
Note: The small gift boxes in this holiday gift basket are the same as in my May 18th 2015 project….this time they are cut from chip board (cereal boxes) and decorated with tiny pinecones, paper evergreen , ribbons and tiny silk Poinsettias.
Do you like to give small handmade gifts to your holiday visitors?  What kinds of things to you create?  Tell us in the comments.

Michele, whose designs can be found in many books and magazines, is an award winning oil, acrylic and water color artist, and multi faceted designer with a love of paper/book arts, beading, polymer clay and painting. Her long history in the industry has allowed her to experiment with and become proficient at most of the art and craft genres. Her favorite item to design with has always been paper, be it molded, cut, pierced, painted, folded, glued or torn.

Latest posts by Michele Emerson-Roberts (see all)