Hello, my dear crafty friends, and welcome to my monthly  post where I am sharing with you my Oriental-style altered chipboard panel!
This time I made this altered wall decor using Tando Creative chipboard pieces, Earth Safe Finishes paints and mediums and Rubber Dance stamps.
Actually this chipboard piece has three panels to alter, but I decided to alter just one of them this time and to make a small visual tutorial.
So here we go!
Product list:
How to make this project:
Step 1: Cover the chipboard panel with ESF Gesso using the Dynasty paint brush. Then paint the butterflies and the flowers with Chalk It Up Cherry Jubilee and the branches with Chalk It Up Milk Chocolate paints. Those paints are fast drying and it  really took a few second for the chipboard to be totally dry.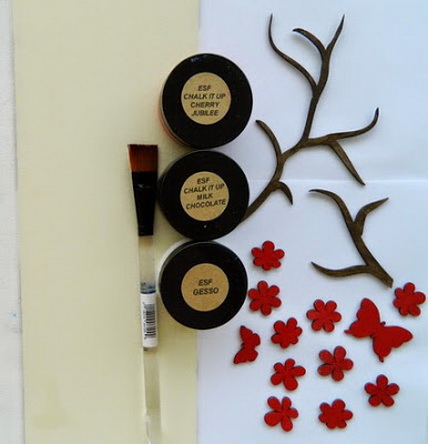 [Tweet "Create Oriental-style altered chipboard panel #decor #DIY #craft"]
Step 2: Cover the painted small red  pieces with ESF Ann Buttler's Iridescents Lipstick  to get a mixed.mute color. Then  cover them with ESF Wax to get this totally smooth finish and let them dry. You wouldn't see the white coverage after like half an hour and it will look shiny and smooth.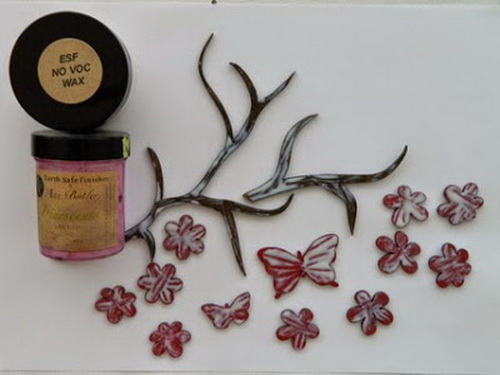 Step 3:   Cover the entire panel (over the gesso layer) with ESF Crackle. Wait for it to dry and then paint over it with   Chalk It Up Huckleberry Cobbler. Remember that if you want to see nice crackles you need to add a thick layer of Crackle and then to paint over the dry crackle just once! Do not try to correct the painted area as then you miss the crackle look.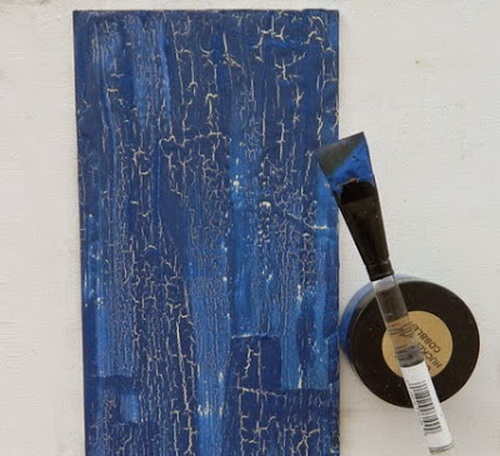 Step 4:  As this piece is supposed to be "oriental style" with those cherry blossoms, I decided to stamp some oriental stamps over the painted panel. I used Snow Crafter's Clearsnap ink and white Clearsnap embossing powder with Rubber Dance Chinese Script stamp. Then, as I wanted to stamp more, I added this Rubber Dance Mesh stamp and some small bold flowers from Rubber Dance Bold and Beautiful stamp set.
The branches, flowers, and butterflies were arranged over the panel and as my final touch I added some white pearls and a bit of fine clear glitter.
And this is how my final project looks: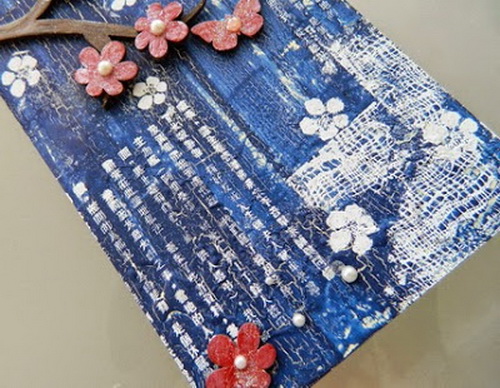 I hope you liked my  tutorial and will use the similar technique over your bare chipboards.

Irit Shalom is an Israeli designer.She is totally versatile in her styles and projects.She makes altered art and mixed media and so much more.Over the last 5years, Irit has designed for more than 30 manufacturers around the world.She was web and print published in almost every possible publication since 2012 and was spotlighted in dozes of manufacturer's blogs.

Latest posts by Irit Shalom (see all)