My love affair with mixed media and Powertex continues as I share with you my latest mini cardboard mixed media canvas. Who knew you could get excited with packing material? I recently moved to a new city and new home and I have a wonderful supply of all things recyclable; cardboard, packing peanuts (not the plastic ones), Styrofoam™…
These little 4″ x 4″ cardboard wedges are PERFECT as a canvas; they are strong and durable…and free!  So let's begin:
Supplies:
cardboard wedge
DecoArt® gesso
lace
clay head
Powertex® Fabric Hardener  ; ivory, blue, bronze, transparent
Powertex® Colortrix; blue, lilac, gold, red pearl
varnish
tissue paper
metal embellishment
ZipDry™
Tools:
pencil with rubber at end, paint brushes
Instructions:
Paint all sides of the cardboard wedge with gesso.  This provides a sealed base to work with.  The Powertex would also be an excellent base and sealant, but it is more expensive than gesso.
Mix some blue and ivory Powertex and completely paint over the sides and top of the canvas
Smush up some tissue paper and push it into the wet powertex in the top quadrant of the wedge leaving ridges, and creating texture.
For the top right quadrant, dip the rubber end of the pencil into some black powertex and paint dots. [Tweet "cardboard wedges make the PERFECTmixed media canvas #art #crafts #mixed media"]
Take your clay face and paint it with colortrix: dip the bristles into the varnish and then pick up the powder color of your choice and dry brush it on.  I used lilac, bronze and blue. Set it aside.
Dip the lace into bronze powertex, wring out the excess and let it dry to touch.
Dry brush with red pearl, gold and bronze.
Dry brush red pearl on the metal embellishment.
Attaching your pieces:
Glue the embellishment with ZipDry
Use transparent powertex to attach the hardened lace and clay face.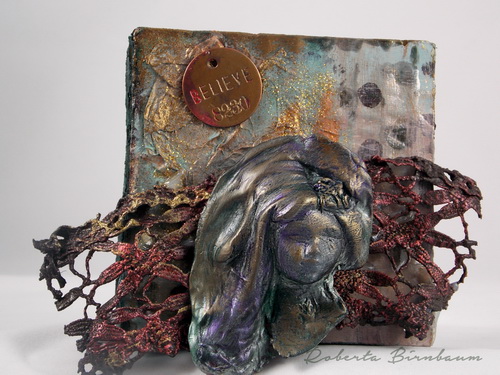 Click on the below links for more information on these products:

Roberta Birnbaum is Bella Crafts' Design Team Leader. She is our only Canadian team member and lives beside one of the world's most beautiful natural wonders – Niagara Falls. Roberta works in many disciplines including mixed media and Powertex™ and creates projects for Ann Butler Designs, Earth Safe Finishes, and ETI Resin. She has been an art instructor, and taught for several years at Michaels.

Latest posts by Roberta Birnbaum (see all)