Quilting continues to be extremely popular in the craft industry and the crafters who create the beautiful quilts at shows like the International Quilt Festival truly are artists in their fields of expertise. Our guest blogger, Denise Losczyk, has shared some links in this post for you to enjoy a few of these very talented quilters. We are quite sure that you'll be as amazed of their work as we are.
*************************************************************
In June, I enjoyed an inspirational day at the International Quilt Festival (IQF) in Rosemont, Illinois. I live in the Chicago area, so I took public transportation to the show and spent the day looking at Quilt art and vendor displays.
I've included a photo of some of my shopping finds: hand dyed wool from Woolylady and hand dyed perle cotton from Artfabrik. I love the bright colors, and I think these materials will make their way into my current wall quilt in progress.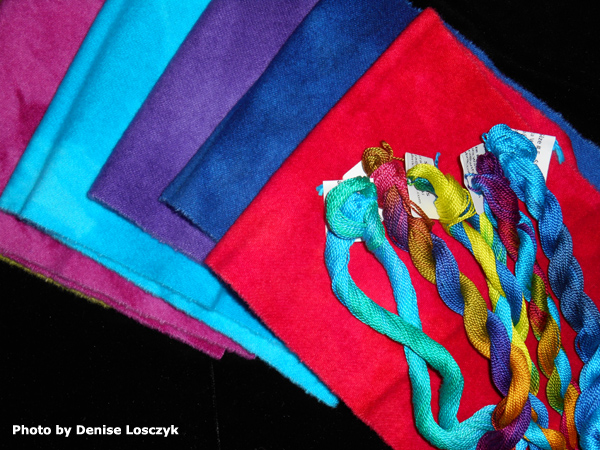 The quilt exhibits were wonderful. I was able to take my time and look closely at quilts and quilting stitches. Two quilts which caught my attention were both by Helen Godden. One was "Cutting Down the Tall Poppies", in the Traditions exhibit, and "Zen Magpies" in the World of Beauty exhibit. I loved the unique detail in the quilting design. I believe the quilting designs were developed from "Zentangle" drawings.
I also loved seeing the "Press On! Art Quilts from the Chicago School of Fusing". This exhibit included quilts from some of my favorite quilt artists: Frieda Anderson, Robbie Eklow, Ann Fahl, Emily Parson Greene, Jane Sassaman, August Wasilowski and Laura Wasilowski. It was great seeing their colorful work in one display. There were many wonderful exhibits, it is hard to remember all the beautiful, inspiring quilts on display, since there were so many!
While at festival, I volunteered for Studio Art Quilt Associates (SAQA) at their members' booth, which earned me free admittance for the day. I am a new member this year. I finally decided to join – it is something I have wanted to do for quite a while. SAQA is an organization which supports art quilters and art quilt lovers. With membership you get access to many wonderful resources. Their Quarterly SAQA Journal, which comes with membership, is excellent. You receive a print copy, and there are also current and previous Journals online, which you can download in PDF format. With membership, you get a great library of art quilt inspiration. They also have many other wonderful online resources, which I have only begun to explore.
There are many opportunities to enter juried shows, and some non-juried shows. This year there was a call out for their 25th Anniversary Trunk Show. All members could enter, and would be accepted. I submitted a 5 x 7 inch quilt, and now my quilt is traveling in Australia through 2015! I may never visit Australia, but it is exciting to know my artwork is being viewed there.
I had a great time volunteering at the SAQA booth. While sharing information about SAQA, I also got to meet members from the Illinois/Wisconsin region, many whom I recognized from the Quilt world. I felt very much at home visiting with fellow artists about their artwork and lives. The day provided me with a much needed dose of creative camaraderie. They are a great group of artists and I recommend the organization to anyone who creates or loves quilts and the fiber arts.
You can find out more about Studio Art Quilts Association (SAQA) at www.saqa.com
Here are some artist vendors I bought from, and some I enjoyed seeing at Quilt Festival:
Artfabrik, by Laura Wasilowski, www.artfabrik.com
FrieStyle Designs, by Frieda Anderson, www.friestyle.com
Woolylady, www.woolylady.com
Artwork by Helen Godden: www.helengodden.com
For more information on the Quilt Shows put on by the International Quilt Festival (IQF):
Be inspired and create!
Denise A. Buchwalter-Losczyk
Denise has published her very first pattern on the website www.patternspot.com
Bella Crafts Publishing is the home of Bella Crafts™, Craft Techniques™ and other digital e-book titles.We love to inspire other crafters to create and grow.
Latest posts by Bella Crafts (see all)