Hello, my dear crafty friends! Those who know me also know that I am a real " faux crafty" person and today I have prepared a faux wood tutorial for you.

I mean I love to find  my own frugal ways to get supplies that are not available in Israel or at least to find a way to make very similar ones. Wooden pieces are one of those products.
[Tweet "Make faux wood with paper,gesso & gelatos. #crafts #tutorial "]
So this is my faux wood tutorial made for those who love wooden pallets on the wall, but can't buy them as they are far away from any craft shops, like I am or can't afford to ship them from USA  to wherever they live. This was the main reason to try to make my own 'wood' and it's quite a success!
Supply list:
Kraft cardstock: American Crafts
Paints, marker, and gesso: Faber-Castell DMC Gelatos
Embossing powder: Clearsnap
Stamps: Inspired by Stamping
Ink: Clearsnap
Stickers: Paper House Productions
Other: a toothbrush. mists
Here is my tutorial:
1. Take an old toothbrush and cut every second row with scissors. Add gesso- I used Faber Castell DMC gesso- over Kraft cardstock using your new low-cost  crafty tool.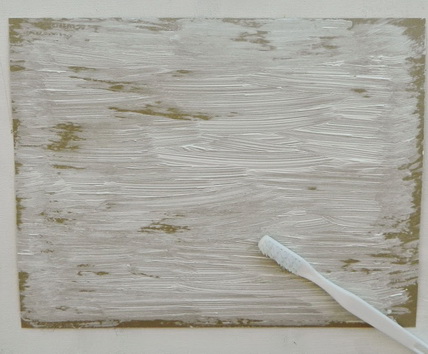 2. Add a thick layer of clear embossing powder over the wet gesso and heat emboss it completely.
3. Add strokes of brown Gelato or any other watercolor brown paint  and wipe it with a baby wipe.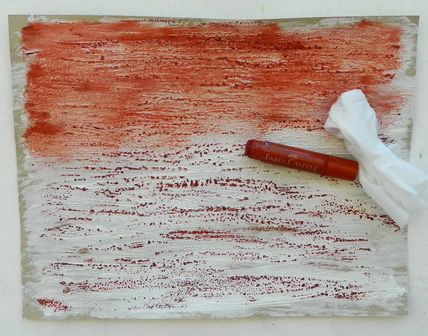 4. Add a mix of brown colors using Big Brush Artist pens and more Gelatos. If you feel that it's too light add some dark brown homemade mist  made from Gelato pieces, mixing browns and a bit of black. Add as much as you want to make your 'wood' darker or lighter. As all colors are not water resist, you can wipe some paint if it's too dark, as I did with my final project.
5. Using the simple metal ruler make your horizontal black lines with black Gelato
Your wooden piece is done. Cut it to strips to make a pallet  as I did for my final project.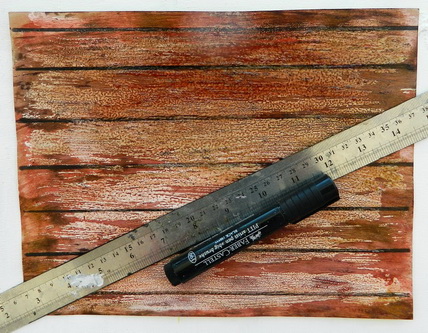 And this is my" Live- Laugh- Love" wall art:
First I cut the piece into 5 parts and arranged the pallet. Then I used a package of Paper House Productions stickers, one on each 'wooden' piece.
Some butterflies were stamped, heat embossed and made as 3D stickers with two or three layers and colored with mists.
And this is how this project looks: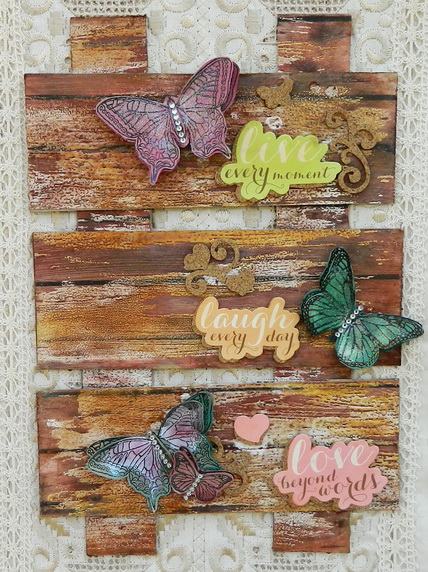 I hope you like my project and see you soon again!

Irit Shalom is an Israeli designer.She is totally versatile in her styles and projects.She makes altered art and mixed media and so much more.Over the last 5years, Irit has designed for more than 30 manufacturers around the world.She was web and print published in almost every possible publication since 2012 and was spotlighted in dozes of manufacturer's blogs.

Latest posts by Irit Shalom (see all)