Hello my dear crafty friends and welcome to my monthly post!
Irit is here and this time I am going to show you how to turn your no-longer-loved rubber stamps into wonderfully new and unique background stamps.
Stampers frequently buy red rubber unmounted stamps as a part of our frugal trend (so we can buy more stamps). We  mount them on cling mounting foam and cut them around by hand; and we all get tons of red cling rubber leftovers that usually go to the trash.  So why not try to recycle those bits and pieces and to make our own mosaic background stamps?
[Tweet "recycle red rubber to make your own mosaic background stamps #crafts #stamping"]
Supply list:
Stamp: Rubber Dance
Red  rubber: Rubber Dance
Inks: Clearsnap, Ranger
Embossing powders: Clearsnap
Cardstock: Recollections
Mist: Ranger
Color blender: Clearsnap
Instructions:
1.  Find a piece of clear acrylic plate that is over 6″ x 6" size.  It can be a thin piece like a page of acrylic album; but as you understand it will be a permanent base for your new background stamp, so find a piece you  don't need for your future craft adventures.
2.  Cut the bigger leftovers in more or less rectangle or triangle shapes and begin to arrange them in this 6″ x 6" pattern.  It takes time, but then it stays over the clear surface forever and can be used again and again. Lucky me designs for Rubber Dance stamp company  and I always have lots of those leftovers.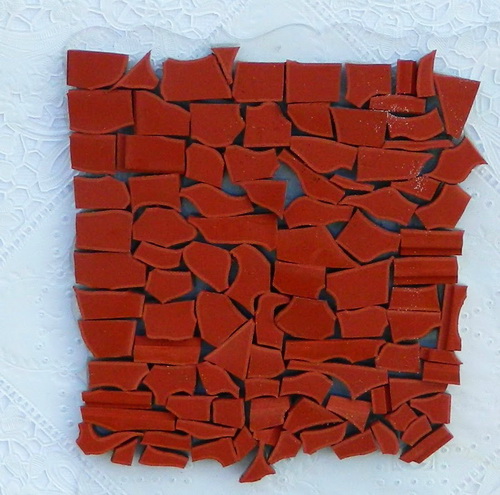 3.  Now put your new stamp aside and stamp your image over the cardstock.  As a heat embossing addict I always try to make the heat embossed image for the sharp look and good resist to colors later.  So I used Crafter's Night ink
and then Clearsnap Clear embossing powder with this collage  and here is how it looks after this step.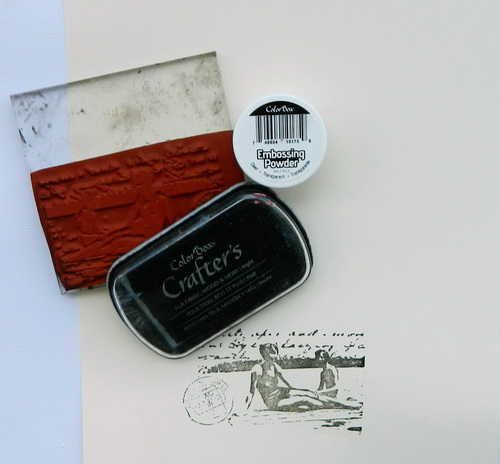 4.  Make your mask by stamping the very same image over a piece of a cardstock with permanent ink; the permanent ink just reduces the dry or wait time.  You can hand cut the image and adhere it over the first, heat embossed one, with re-positionable glue.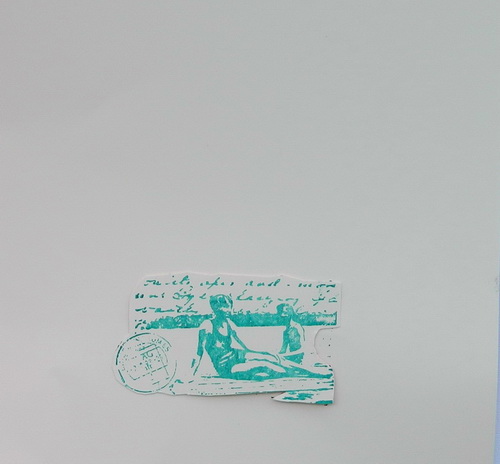 5.   Ink the red side of your self-made stamp with any clear embossing ink. Stamp over the masked image; you can see the backside of your stamp right now with this grey cling surface.  Heat emboss your stamped background with white embossing powder. 
6. Peel the mask and ink the embossed surface around  with
 Crafter's Aquamarine ink
using the color blender and then ink  over the image with
Sunshine Crafter's ink
.  Wipe the embossed surface with a baby wipe and let it dry.  Add a few small drops of the same color mist and arrange the trimmed piece over the background cardstock.  I actually used the cardstock that was under my stamped piece during the inking stage; it's 'frugal me' again , which is a direct result of living very far away from the major craft shops.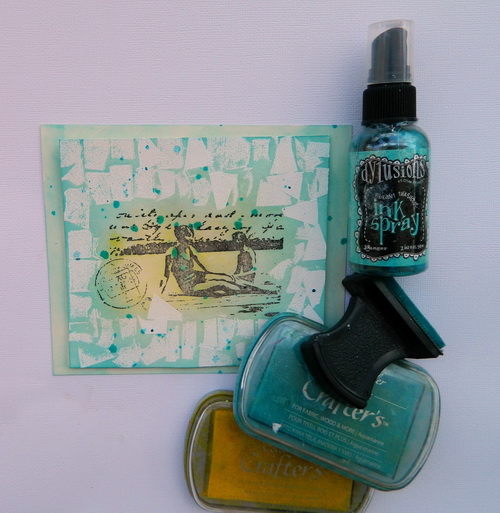 And here is the finished piece: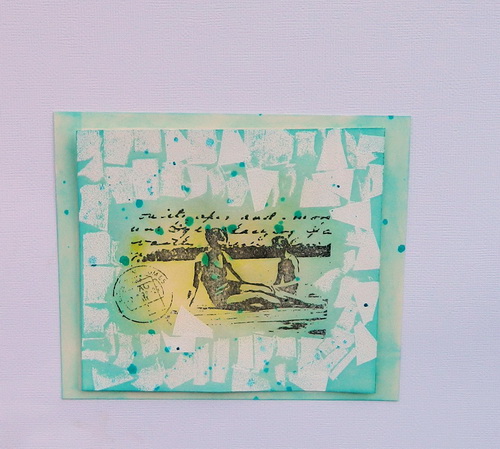 As you can see this background stamping is not perfect: but who cares?  It's our own background and it can be imperfect and different each time we use this stamp.
Products used in this project:

Irit Shalom is an Israeli designer.She is totally versatile in her styles and projects.She makes altered art and mixed media and so much more.Over the last 5years, Irit has designed for more than 30 manufacturers around the world.She was web and print published in almost every possible publication since 2012 and was spotlighted in dozes of manufacturer's blogs.

Latest posts by Irit Shalom (see all)