Are you creative?  Do you create time for crafting?  If you have not been taking time to do something creative and fun, we want to introduce you to Cre8time!  Cre8time is a foundation that was started by the Craft and Hobby Association to help encourage people to make time to foster creativity.  As creatives ourselves, we produce Bella Crafts Quarterly™ not only for our love of crafting, but also to inspire others.  We hope that you have enjoyed our magazine.  If you have not yet seen it, what are you waiting for?  It is completely FREE to view online and download.  You can get our current issue and visit our archives to see all of our issues absolutely free.
As you peruse through Bella Crafts Quarterly™, you will notice that in every issue, we have a dedicated quick and easy craft especially designed to support Cre8time.  The Cre8time movement is one we strongly believe in and support.  In our continued effort to help spread the word, we are proud to announce that we have partnered with the Craft and Hobby Association to bring you an exclusive series of ebooks dedicated to this important movement.  Each ebook will feature 8 quick and easy crafts.  We know you are going to be inspired and will love the projects that we share.
The first book in our series is scheduled to hit the net on Wednesday, November 12th!!  It's called 8 Quick and Easy Crafts for Tweens and features…that's right…crafts for Tweens!  Here's a sneak peek at the cover…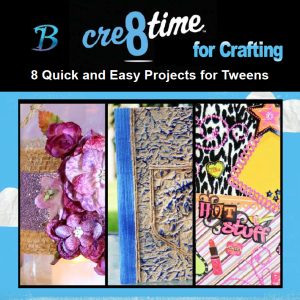 If you would like to hear more about Cre8time and the new ebooks, check out this episode of Bella CRAFTS! Google Hangouts OnAir!
Stay tuned…more information will be coming on how you can get your own Cre8time book!  We can't wait to tell you more.
Bella Crafts Publishing is the home of Bella Crafts™, Craft Techniques™ and other digital e-book titles.We love to inspire other crafters to create and grow.
Latest posts by Bella Crafts (see all)